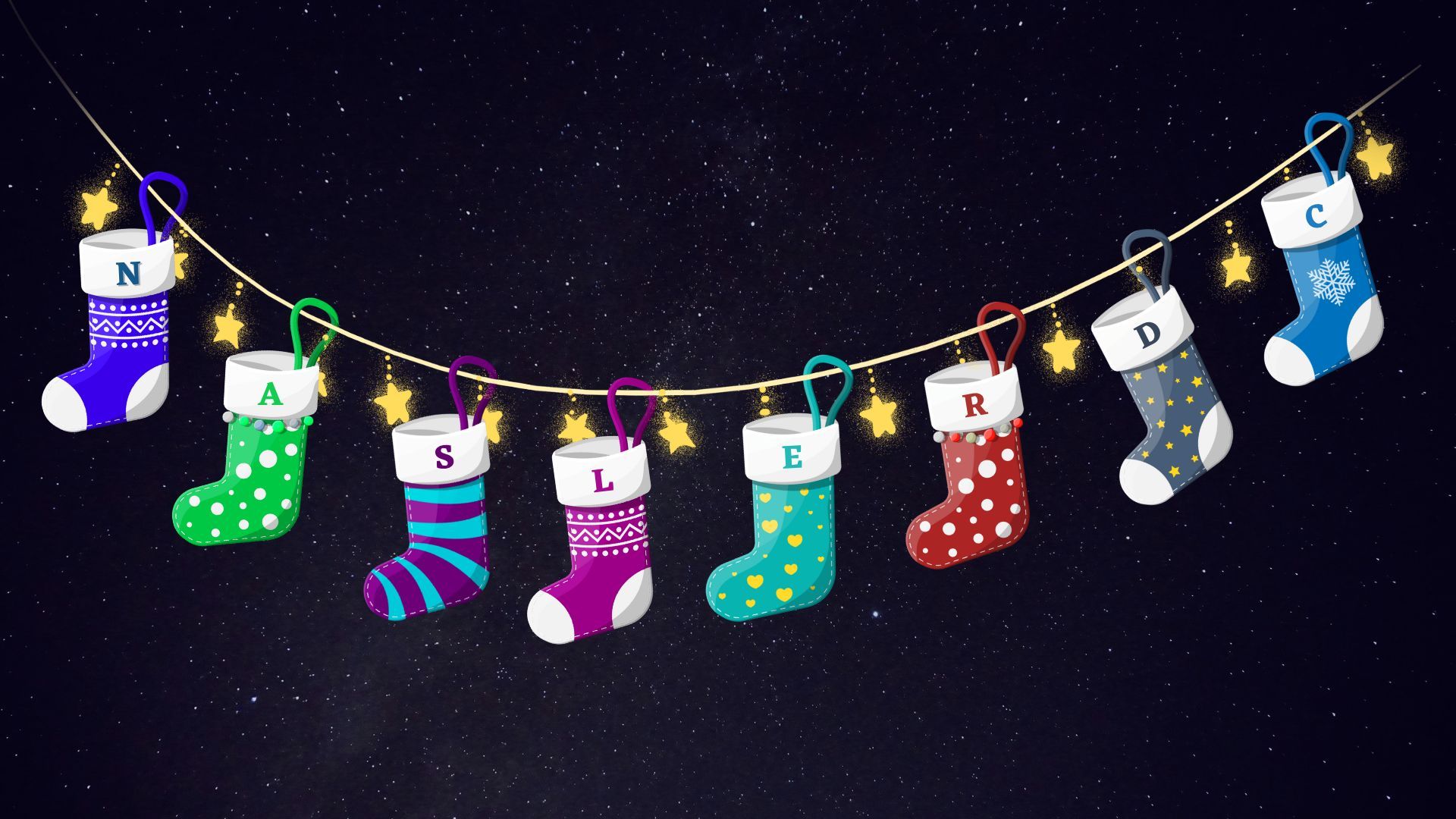 Happy Hanukkah! In this family, we have some strange traditions. First, we hang stockings, but don't tell the kids which gift goes in which stocking. After they sort it all out, the kids play a round of white elephant and give each other presents. And Mom always reserves one special Hanukkah gift for everyone after it's all done. What is it?
Kids
Ava seeks answers that are like her. She's hoping for a festive vacation. (56837124)
Clark is a science nerd between 17-19 who's studying chemicals across space. He's hoping for a spork. (415326)
Dash is obsessed with every little detail, just like that old saying, but he checks even more letters. He's thirsty.  (13452)
Esme looks in very specific directions for her gifts. What she wants is up in the air.  (12648573)
Lou P. Khan wants things they can hold, but they gotta sound perfect. They're hoping for something for their aquarium. (53721648)
Nate O. wants a couple things in every gift. He's getting into woodworking. (23514)
Rob will illegally pinch and lift each of his presents and attempt to figure out what's deep inside. He's hoping for some games. (231)
Stewy can't wait for the tasty holiday dinner, and all the things that get mixed into it. He needs to be entertained. (314652)
Gifts
ACL knee brace
Ancient calculator
Ax court
Cannabis
Comic strip about an airline
Croak gents
Elbow pasta
Garden fortress
Glacier
Glass awl
Hercules venison
Hot sauce
Iron-ons
Jack knife sack
Japes
Knitting machine
Kohlrabi atomizer
Large crow
Latex negligee
Latin dancing with a loverboy
Law, as written
Math nights
Mazel Tov, You've Changed
Moss recorder
Nick Lowe's mug
Nothing, nil, zilch
Oak corn
Pepperoni nectarine
Person bow
Pillow in white
Quality Nijinsky
Schumann twang
SCSI system
See-through championship trophy
Shoplifting hijinks
Skiing by Beijing
Slipper den
Small batteries
Soft tacos around Tijuana
Spun knee
Steam soot
Stiff, crisp fleece
Supercontinent of old
The orb
Tractors
Trip to the Canadian mountains
UNLV ogre
Yellow bird
Zinc ointment
Answer checker
Leaderboard
Codiak
Maggie W.
Steven Valdez
Jen B
Joey Spain
Hilary H
Matt S
Solve sessions
Solving is more fun when you do it with friends! Join other Members — and Sandy — in Gather to work on this puzzle. Learn more here:
---
Boosters get access to: Mysteries (early), hints, the leaderboard entry form, and solve sessions. Here are more reasons why you might want to become one.
Already have an account? Sign in.