A regular at her favorite ice cream shop, Darla can never choose just one flavor. She always orders every one of 13 of the flavors they offer, precisely stacked so that each flavor leads perfectly into the next as she eats. All the regular employees know Darla's usual order, but today the new clerk stacked the flavors in alphabetical order instead. Darla needs to teach them the correct order. "It's easy," Darla insists, "the blends between flavors matter the most".

What's the name of this amazing shop?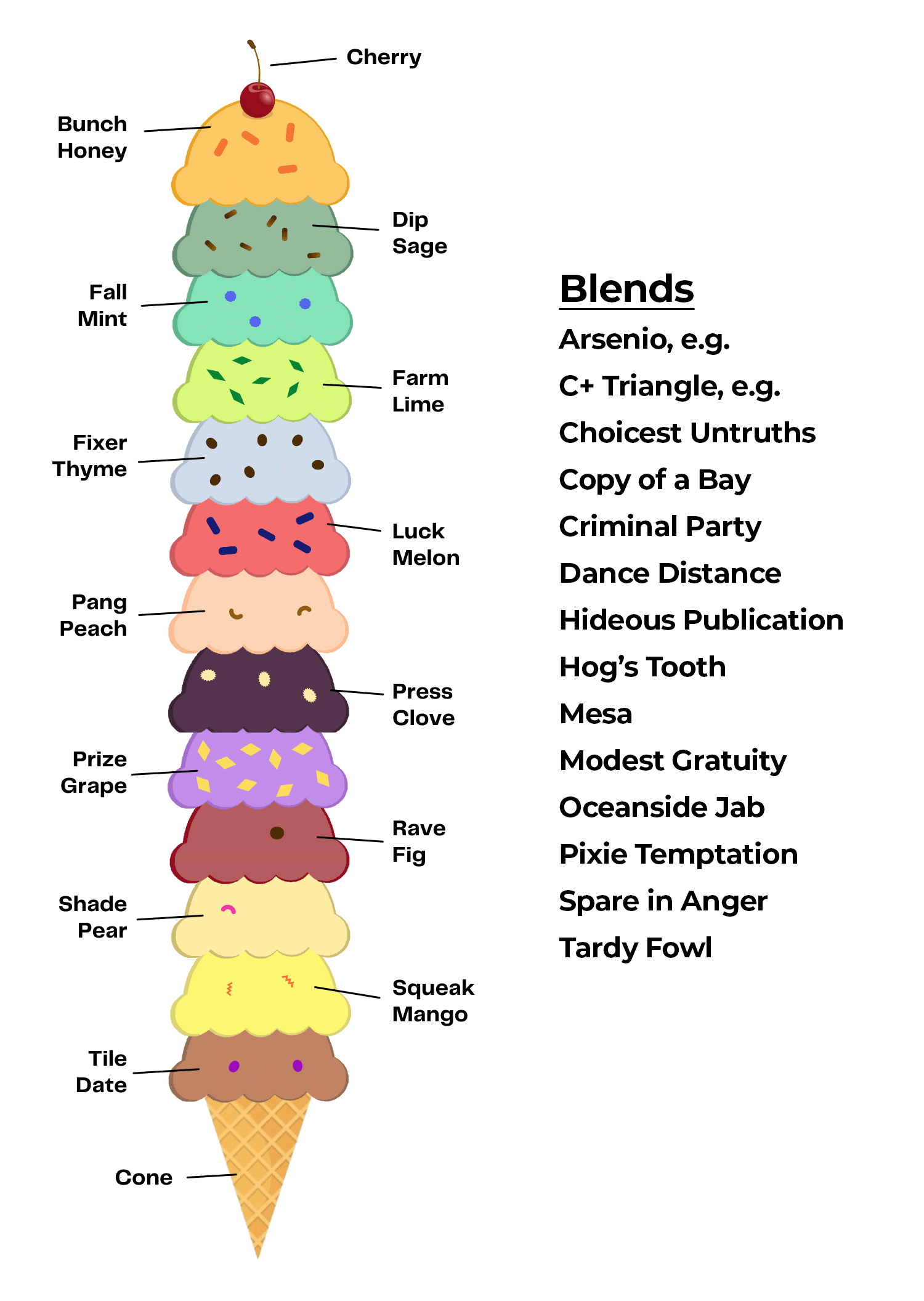 Leaderboard
Joey Spain
Golem
Jason Deakins
Rich Bragg
Maggie W.
Ryan Bollettino
Adam Kaye
Meg
Steven Valdez
Jack + Jenn
Richard Hren
Don Ray
Hilary H.
Jen Mitchel
Jen B
Thomas
Plain text
Stack
Cherry
Bunch Honey
Dip Sage
Fall Mint
Farm Lime
Fixer Thyme
Luck Melon
Pang Peach
Press Clove
Prize Grape
Rave Fig
Shade Pear
Squeak Mango
Tile Date
Cone
Blends
Arsenio, e.g.
C+ Triangle, e.g.
Choicest Untruths
Copy of a Bay
Criminal Party
Dance Distance
Hideous Publication
Hog's Tooth
Mesa
Modest Gratuity
Oceanside Jab
Pixie Temptation
Spare in Anger
Tardy Fowl
Hints & Submission Form
---
Boosters get access to: Mysteries (early), hints, the leaderboard entry form, and solve sessions. Here are more reasons why you might want to become one.
Already have an account? Sign in.