I like to mash up the games I play. Here you see a modified version of The New York Times' Spelling Bee, with a larger field and slightly modified rules:
Answers may be multiple words and proper nouns.
All tiles used in an answer must be adjacent, i.e. form a contiguous blob.
Tiles can be reused in an answer.
Every answer must use the center tile, which can stand for any letter, and which is represented by a ⬡ in the list below. (You can ignore these letters.)
Here is a grid and some clues about the answers I found in this grid. Sound like fun? Do you have the resources to solve it?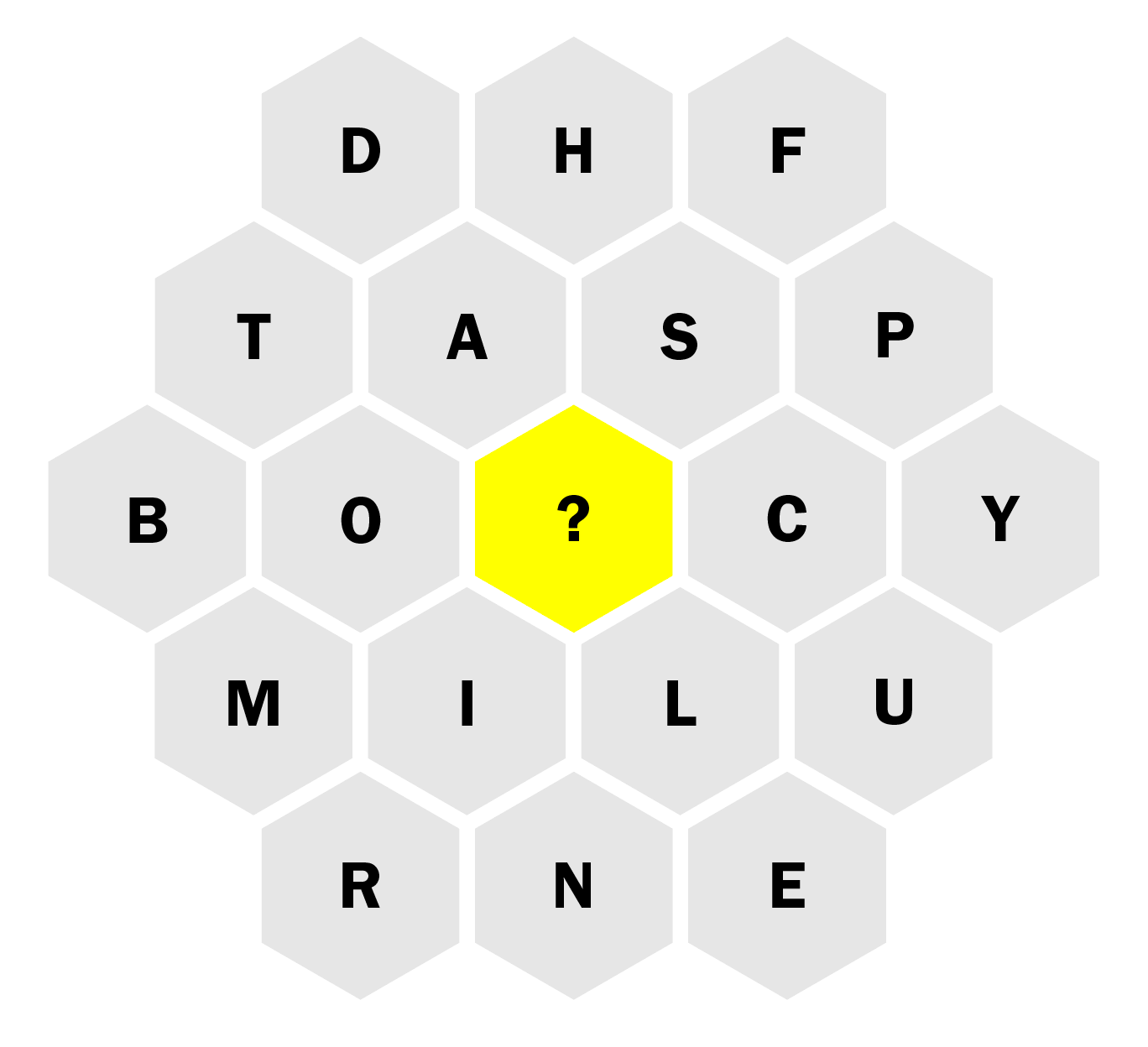 ⬢⬢⬢ ⬢⬡⬢⬢⬢ - Chart-topper by Taylor Swift featuring Kendrick Lamar
⬡⬢⬢⬢⬢⬢ - Floor
⬢.⬢. ⬢⬢⬢⬢⬡⬢⬢ - Fútbol team in Hidalgo, Mexico that's been around more than 120 years
⬢⬢⬢⬡⬢⬢ - Italian for "five"
⬢⬢⬢⬡⬢ - Loses energy, as one falling asleep
⬢⬢⬢⬡⬢ - Unix command that should synchronize a file's state with storage device
⬡⬢⬢⬢⬢⬢ - Tactical move that could give you an advantage
⬢⬢⬢ ⬢⬢⬡⬢ - Performs a fancy trick, like on a ski slope
⬢⬢⬡⬢⬢ - Organ the body uses to secrete bile
⬢⬢⬢⬡ - Good name of a female werewolf
⬢⬢⬢⬡⬢⬢ - Sweet, red, oval-shaped fruit
⬢⬡⬢⬢⬢⬢ - Eponymous show about fatherhood, made by a Wayans
⬢⬢⬢⬡ - Condition that'll fetch a steep price
⬢⬢⬡⬢⬢ - Jam band whose songs keep going and going
⬢⬢⬢⬡ - Malicious fairy who's a bit of a creep
⬢⬢⬢⬢⬡⬢⬢ - Simple machines used to pick up things
⬢⬢⬢⬢⬡ - Rockin' bird that goes "tweet tweet tweet"
⬢⬢⬢⬡ - Cuisine that brings the heat
What should I call this game mash-up?

---
Answer checker
Leaderboard
Steven Valdez
Maggie W.
Adam Thompson
Mark W
Codiak
Justin S.
Jen B
Joey Spain
Hints
---
Boosters get access to: Mysteries (early), hints, the leaderboard entry form, and solve sessions. Here are more reasons why you might want to become one.
Already have an account? Sign in.