Oh no, the tennis tournament has been cancelled in favor of pickleball! And all the pros are here to get a piece of the action. (What a bunch of gherks.)
Find each pro's "talent," hidden in their bio. (You could say that their talent is their middle name.)
Pair up the pros side by side, by pairing up talents.
Use these 20 pairs to find 20 words. Write the words in the series of blanks formed in the middle of each pair.
Using these new words, figure out how to slot the pairs onto the the 10 pickleball courts below.
Fill in the blanks.
When done correctly, you'll discover what we're going to name this tournament.
🗒️
Note: This puzzle is designed for print. I've provided a letter-sized PDF version of the players and courts below. You should print it, then cut it up into individual player cards. If you don't want to print and cut, you can still solve it with just the text at the bottom of the page — though you should still reference the player cards for the position of the blanks. (The images are not necessary for solving.)

Errata: On Oct 6 at 6:20 PM, I changed the clues for Kyrgios and Sampras.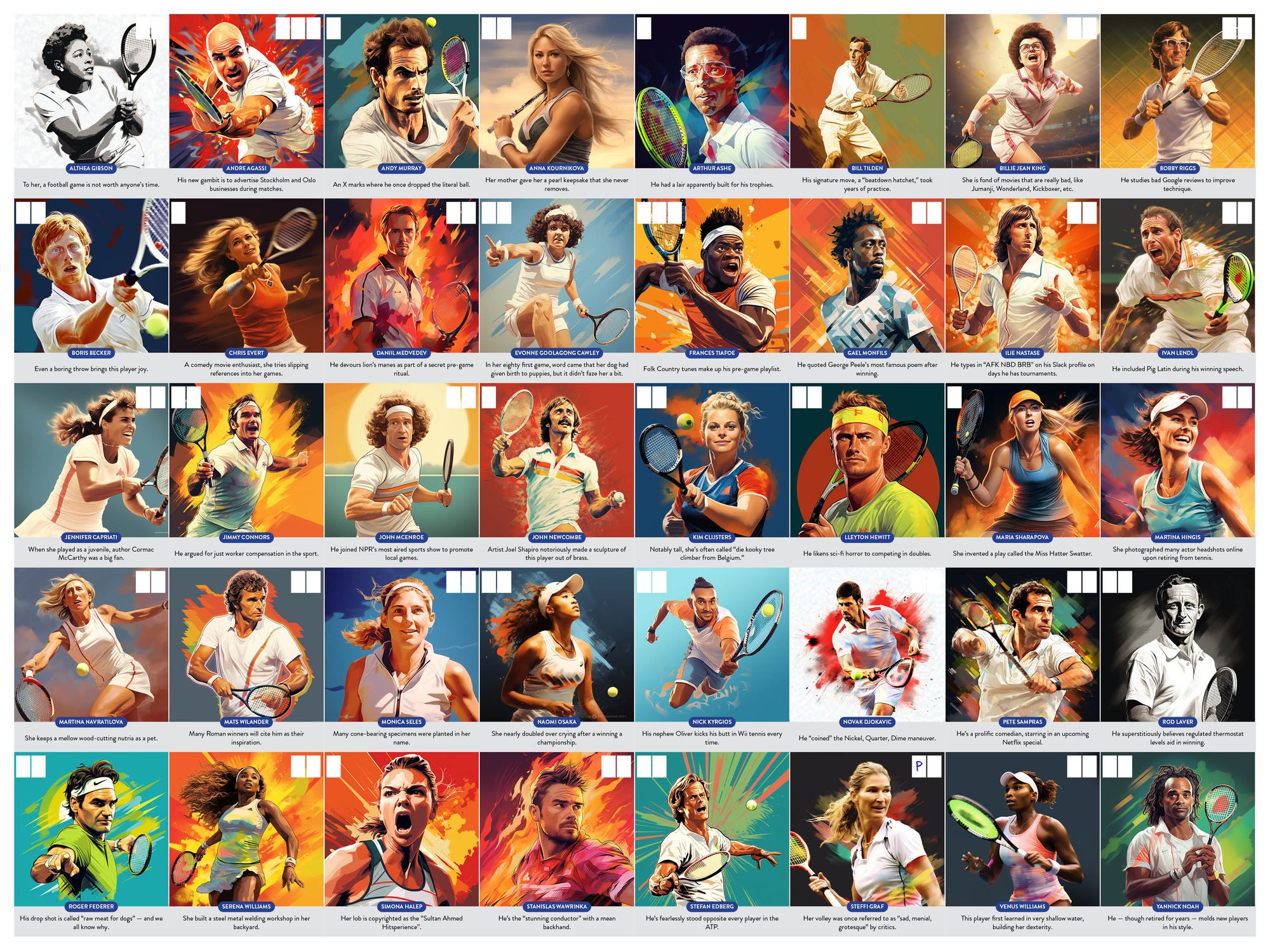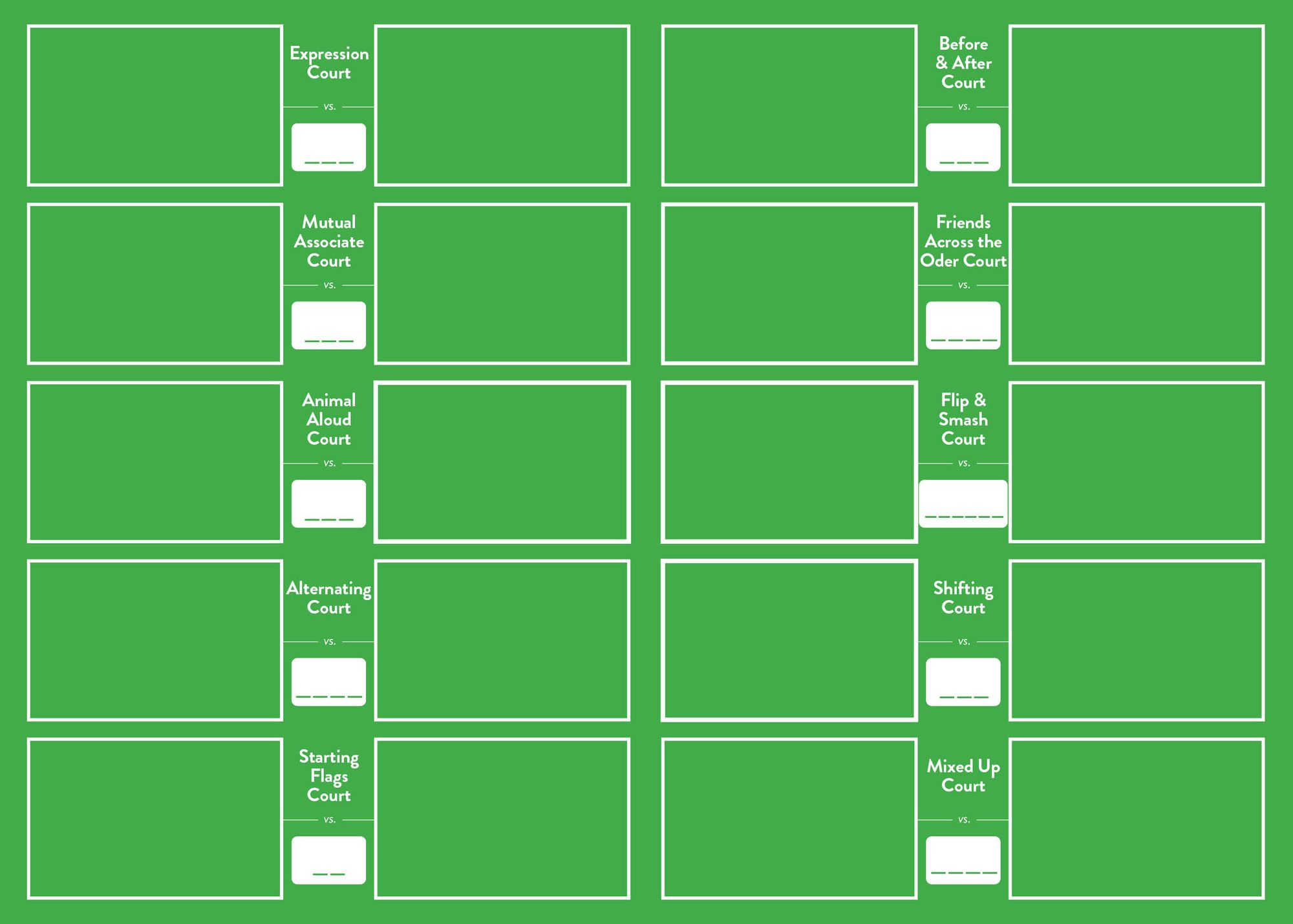 Plain text
Players
Althea Gibson — To her, a football game is not worth anyone's time. (2)
Andre Agassi — His new gambit is to advertise Stockholm and Oslo businesses during matches. (3)
Andy Murray — An X marks where he once dropped the literal ball. (1)
Anna Kournikova — Her mother gave her a pearl keepsake that she never removes. (2)
Arthur Ashe — He had a lair apparently built for his trophies. (1)
Bill Tilden — His signature move, a "beatdown hatchet," took years of practice. (1)
Billie Jean King — She is fond of movies that are really bad, like Jumanji, Wonderland, Kickboxer, etc. (2)
Bobby Riggs — He studies bad Google reviews to improve technique. (2)
Boris Becker — Even a boring throw brings this player joy. (2)
Chris Evert — A comedy movie enthusiast, she tries slipping references into her games. (1)
Daniil Medvedev — He devours lion's manes as part of a secret pre-game ritual. (2)
Evonne Goolagong Cawley — In her eighty first game, word came that her dog had given birth to puppies, but it didn't faze her a bit. (2)
Frances Tiafoe — Folk Country tunes make up his pre-game playlist. (3)
Gael Monfils — He quoted George Peele's most famous poem after winning. (2)
Ilie Nastase — He types in "AFK NBD BRB" on his Slack profile on days he has tournaments. (2)
Ivan Lendl — He included Pig Latin during his winning speech. (2)
Jennifer Capriati — When she played as a juvenile, author Cormac McCarthy was a big fan. (2)
Jimmy Connors — He argued for just worker compensation in the sport. (2)
John McEnroe — He joined NPR's most aired sports show to promote local games. (2)
John Newcombe — Artist Joel Shapiro notoriously made a sculpture of this player out of brass. (1)
Kim Clijsters — Notably tall, she's often called "die kooky tree climber from Belgium." (2)
Lleyton Hewitt — He likens sci-fi horror to competing in doubles. (2)
Maria Sharapova — She invented a play called the Miss Hatter Swatter. (1)
Martina Hingis — She photographed many actor headshots online upon retiring from tennis. (2)
Martina Navratilova — She keeps a mellow wood-cutting nutria as a pet. (2)
Mats Wilander — Many Roman winners will cite him as their inspiration. (2)
Monica Seles — Many cone-bearing specimens were planted in her name. (2)
Naomi Osaka — She nearly doubled over crying after a winning a championship. (2)
Nick Kyrgios — His nephew Oliver kicks his butt in Wii tennis every time. (2)
Novak Djokavic — He "coined" the Nickel, Quarter, Dime maneuver. (2)
Pete Sampras — He's a prolific comedian, starring in an upcoming Netflix special. (2)
Rod Laver — He superstitiously believes regulated thermostat levels aid in winning. (2)
Roger Federer — His drop shot is called "raw meat for dogs" — and we all know why. (2)
Serena Williams — She built a steel metal welding workshop in her backyard. (2)
Simona Halep — Her lob is copyrighted as the "Sultan Ahmed Hitsperience". (1)
Stanislas Wawrinka — He's the "stunning conductor" with a mean backhand. (2)
Stefan Edberg — He's fearlessly stood opposite every player in the ATP. (2)
Steffi Graf — Her volley was once referred to as "sad, menial, grotesque" by critics. (2)
Venus Williams — This player first learned in very shallow water, building her dexterity. (2)
Yannick Noah — He — though retired for years — molds new players in his style. (2)
Courts
Expression Court (3)
Mutual Associate Court (3)
Animal Aloud Court (3)
Alternating Court (4)
Starting Flags Court (2)
Before & After Court (3)
Friends Across the Oder Court (4)
Flip & Smash Court (6)
Shifting Court (3)
Mixed Up Court (4)
---
Answer Checker
Leaderboard
Maggie W.
Steven Valdez
Codiak
Rock Lobsters
Jen B
Straus Family
Hints
---
Boosters get access to: Mysteries (early), hints, the leaderboard entry form, and solve sessions. Here are more reasons why you might want to become one.
Already have an account? Sign in.