---
My friends are from all over the world, and whenever they speak, they always slip in a word from their native tongue. Today they decided to play the game Two Truths and a Lie. To make it more fun, each friend spoke their own lie, but two other friends' truths. What a group of weirdos — they're always hiding something!

What would be a good name for our friend group?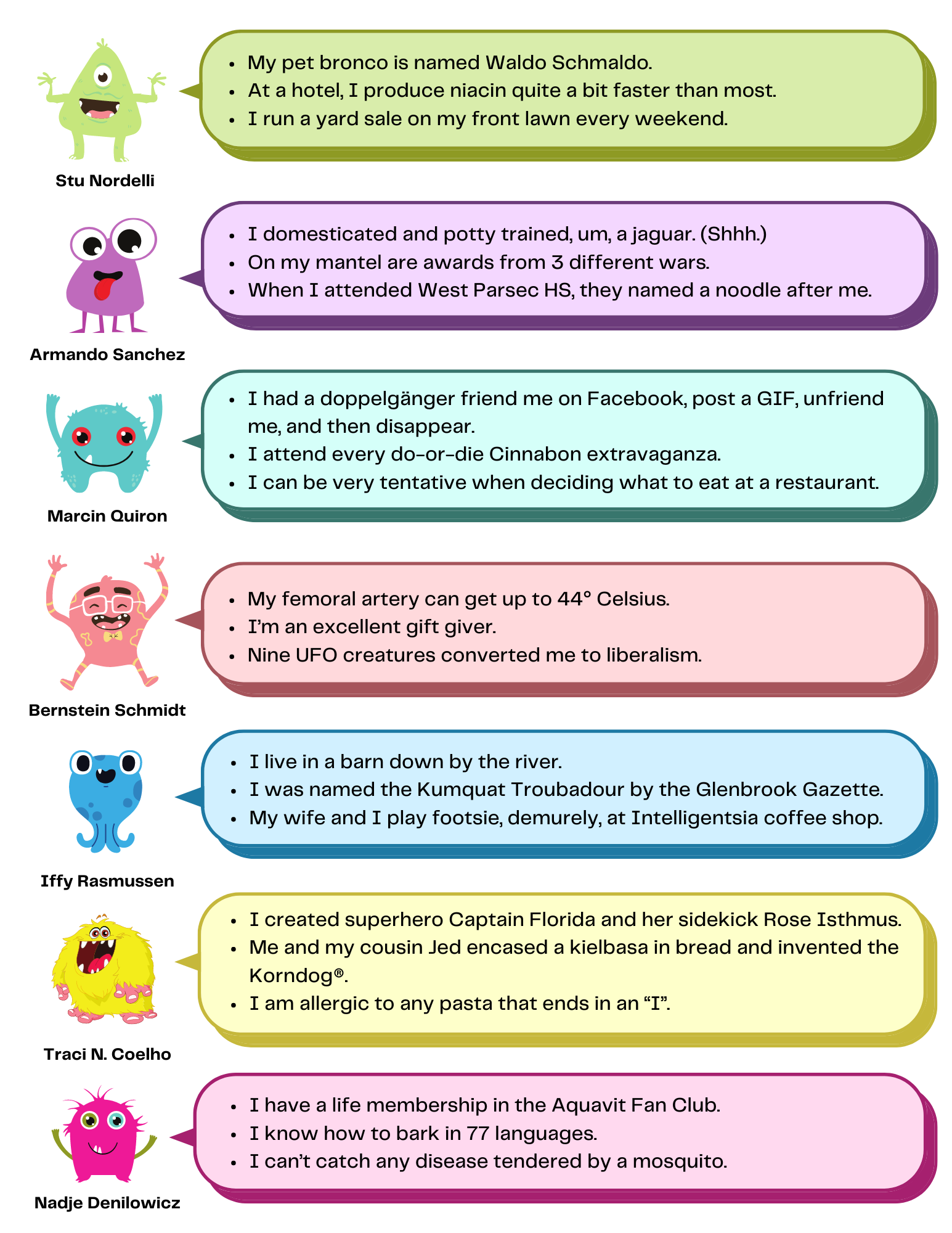 Plain text
Friends
Stu Nordelli
Armando Sanchez
Marcin Quiron
Bernstein Schmidt
Iffy Rasmussen
Traci N. Coelho
Nadje Denilowicz
Claims
My pet bronco is named Waldo Schmaldo.I ride a bronco named Waldo Schmaldo.
At a hotel, I produce niacin quite a bit faster than most.
I run a yard sale on my front lawn every weekend.
I domesticated and potty trained, um, a jaguar. (Shhh.)
On my mantel are awards from 3 different wars.
When I attended West Parsec HS, they named a noodle after me.
I had a doppelgänger friend me on Facebook, post a GIF, unfriend me, and then disappear.
I attend every do-or-die Cinnabon extravaganza.
I can be very tentative when deciding what to eat at a restaurant.
My femoral artery can get up to 44° Celsius.
I'm an excellent gift giver.
Nine UFO creatures converted me to liberalism.
I live in a barn down by the river.
I was named the Kumquat Troubadour by the Glenbrook Gazette.
My wife and I play footsie, demurely, at Intelligentsia coffee shop.
I created superhero Captain Florida and her sidekick Rose Isthmus.
Me and my cousin Jed encased a kielbasa in bread and invented the Korndog®.
I am allergic to any pasta that ends in an "I".
I have a life membership in the Aquavit Fan Club.
I know how to bark in 77 languages.
I can't catch any disease tendered by a mosquito.
Updates / Errata
On August 8, 6:15 PM CT, I slightly adjusted two names and two sentences.
Leaderboard
Rich Bragg
Answer checker, Hints & Submission Form
The rest of this post is for Signals Members.
Here are some reasons why you might want to become one.
Already have an account? Sign in.